We have recently finished with the cover artwork for the upcoming EP "Over the Edge". The idea behind the cover image was to take the words out of the band name... and literally visualize them. Somebody came up with the idea: why not to make a photo of a mile in a maze? Soon enough we were able to find a green hedge maze, so we only needed to figure out the 'mile' part. My first association with mile was, well, a mile post. The problem was that we didn't have one that would suit our needs. Homestly, we didn't have any at all. So why not make it? We are involved with working with metal after all!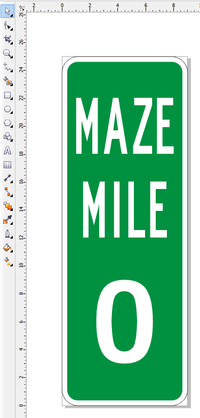 So I took a photo of the standard D10-2 US sign and tried to re-trace it to the vector format. Needless to say that nothing good came out of this. After an hour or so of fruitless attemps I finally switched to googling for any kind of standard describing the sign in greater detail and... bingo! I was able to find one, complete, with dimensions for the plate itself and the letters! With that new secret weapon I was able to complete the drawing in no time.
Shooting emails to several sign manufacturing companies for the next couple of days is all that it took to start the actual production process. As anticipated, the company that was eventually hired to manufacture the signs for us could only do batches of those. The funny part was that they couldn't believe that all of the sings needed to be at 'zero'. Really, who in the real world does that, haha? Well, we do! So, when the order was finished and shipped to us we ended up with a nice assortment (more of a stockpile honestly) to choose from for the photosession, haha.
To be continued.